Before moving towards the different ways of dogecoin cloud mining, let's look at the dogecoin overview and why it is easier to mine than other cryptocurrencies.
The beginning of Dogecoin in the cryptocurrency world was a joke, centered on the meme "Doge" of Shiba Inu. But this parody project by Billy Markus and Jackson Palmer got popular day by day, and now it is on the list of the top 10 successful cryptocurrencies of the world.
With a global fanbase, Dogecoin has a current market capitalization of $32 billion. The CEO of Tesla, Elon Musk, is also one of the essential personalities behind the price increase of dogecoin value in 2022. Now people are mining it on their own to get a stable future.
Yes, people are focusing more on mining dogecoins than bitcoin because of its current market capitalization. Mining Dogecoin is more straightforward than other cryptocurrencies because its new blocks are easier to discover. Hence, it is safe to invest in its mining.
Dogecoin Cloud Mining: Overview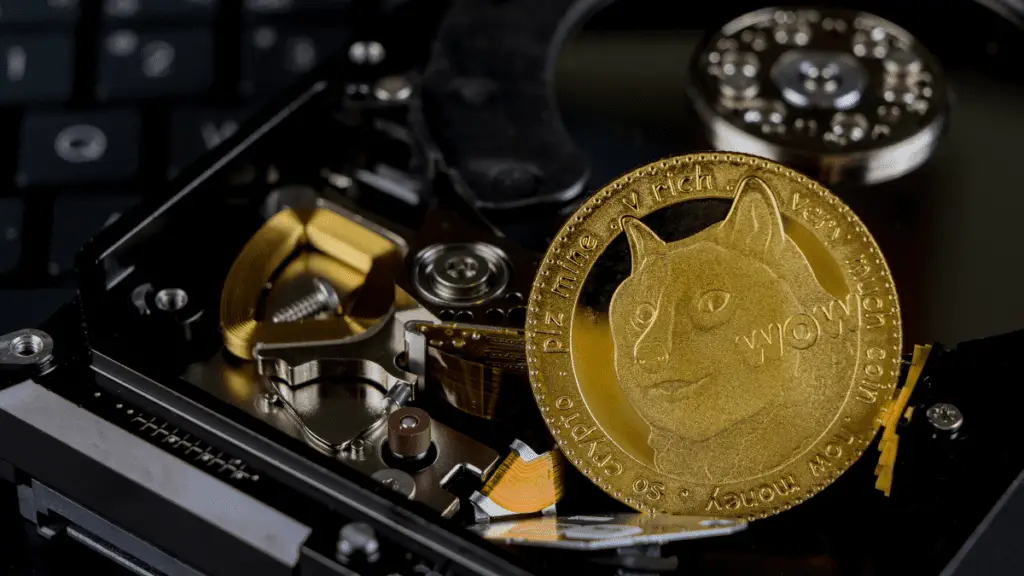 Dogecoin Mining refers to a secure process in which transaction data blocks are validated by solving mathematical complex equations. After decoding, the new data blocks of transactions are added to the network of Dogecoin.
Whenever there is a confirmed data block transaction, a new block (with its current market worth) will enter the Dogecoin network. Different cryptocurrencies use different algorithms to solve equations. In dogecoin mining, we use the Scrypt algorithm.
There are many methods that you can choose for mining dogecoin. Here are the top 3 ones.
Individual Mining
Pool Mining
Cloud Mining
The first two methods are the traditional methods that require a lot of physical work. It would help if you assembled numerous heavy GPUs for mining. In contrast, Cloud Mining is one of the most vital types of doge mining that is very easy and requires no physical systems.
In Cloud Dogecoin mining, you take computing powers from the heavy data centers on rent and pay them monthly, annual, or project. After that, you start mining Dogecoin via pool mining, and then the data centers send a mined amount of coins to your wallet.
Most people are using cloud mining to save their energy resources and money. If you are also looking to mine Dogecoin without any hassle, choosing the cloud mining method would be a very suitable option.
What is DOGE?
Like Ethereum & Bitcoin, Dogecoin also works on the blockchain technology mechanism. Created by Jackson Palmer and Billy Marcus in 2013, this coin got hype in 2021 after Elon Musk's interest. Initially, the doge started as a meme, but it got massive interest from people later on.
It is also one of the most secure cryptocurrencies that use a safe, unknown, and decentralized environment to make transactions. Moreover, its market capitalization is increasing day by day. So, we can say that in 2022, it is worth buying and mining.
Why Mine Dogecoin?
Comparing it with bitcoin and Ethereum won't cause justice to it. Dogecoin is easier to mine because of is easy to solve mathematical equations. Moreover, it uses a Scrypt algorithm that is more advanced than other algorithms.
According to Garry DeWall, "If a block of bitcoin takes 10 minutes to mine, then the same block will take only 1 minute in Dogecoin mining."
Best Doge Cloud Mining Sites
If you are willing to mine Dogecoin but don't have enough investment in your pocket, cloud mining will be a good option. It uses the other's GPU, CPU & ASIC-based systems; therefore, they will be easy to use. But there are also drawbacks of cloud mining that you must consider.
Many platforms are offering cloud mining. Every forum has some advantages as well as disadvantages. You need to pick according to your requirements. Here in this content, we are going to cover the top 5 dogecoin cloud mining sites.
Genesis-mining.com
Searching for the best platform to mine Dogecoin on the cloud, well, genesis-mining will fulfill your needs. It is among the top cloud mining platforms allowing users to mine bitcoin, Ethereum, Dogecoin, and altcoins. They are offering variable packages.
On the other hand, they offer daily transfer options for mined coins. That is the main reason behind their popularity. Due to such possibilities, it is present in our list of most transparent cloud mining dogecoin service providers on the internet.
Eobot.com
Launched in 2013, Eobot gained popularity in late 2013 when people started securely mining bitcoin. Still, the developers of this site are not known to the world, but it is a globally renowned cloud mining site on the internet.
Although the maintenance fee of this platform is 33%, it is worth the dogecoin mining platform because of its trust among the miners. So, if you want to start mining in 2022, then go and register your account on Eobot now.
Nicehash.com
NiceHash is one of the most potent and convenient global power hashing marketplaces where you can lease and rent hashing power according to your mining needs. It survived the hacking attack back in 2017, so we can consider it a safe marketplace for mining.
So, if you are willing to opt for secure and affordable mining machines, then selecting NiceHash will be good for you. It is a globally reputable and transparent one.
Skycoinlab.com
Skycoin is another robust and transparent cryptocurrency cloud mining service provider on the internet. Due to their favorable user-oriented benefits, their registered user numbers are increasing day by day. If you want to mine Dogecoin, then this website is a good option.
No one can question their security because of their diverse ecosystem and powerful GPUs along with backup machines. However, their packages are affordable for everyone. In short, if you want free dogecoin cloud mining services for testing, then skylab coin is for you.
Gigahash.org
Last but not least, the gigahash org is yet another powerful platform that is offering cloud mining services for cryptocurrencies. You can also mine Dogecoin on this platform. All you need is to contact them, choose a package that you want and then start mining.
When it comes to security, you will find it on the 5th number on our list. Additionally, the packages are cheaper than the sites mentioned above.
Frequently Asked Questions (FAQs)
Can you Cloud Mine Dogecoin?
Although there are multiple ways to mine Dogecoin, the easiest one is cloud mining. Most people prefer to use data centers' servers to mine Dogecoin instead of buying their heavy machines for mining. It is cheaper as well as more result-oriented.
Is Dogecoin worth mining?
Dogecoin is worth mining in 2022 because of its market capitalization, easy-to-solve mathematical equations, and different straightforward mining methods. However, if you have dreams of becoming a millionaire overnight, then it is not possible. Don't mine then.
Can Dogecoin be mined?
Yes, likewise bitcoin and Ethereum, Dogecoin also works on blockchain technology. You can mine it in three different ways, i.e., solo mining, pool mining, and cloud mining. Cloud Mining is the most convenient one and less expensive. It also requires less effort.
How long does it take to mine 1 Dogecoin?
With the help of cloud mining, you can mine a dogecoin even in less than a minute. Yes, it is that straightforward. All you need to do is to select a good mining machine as per your budget.
Bottom Line
After reading the top 5 sites for dogecoin cloud mining, I am sure you will select one as per your needs. So, don't be late. Try to get an account on any of the platforms mentioned above. Start mining for the last quarter of 2022.
You can mine dogecoins as per your needs and investment. It will make your future tremendous and will make you rich. What are you waiting for then? Try these sites now and mine Dogecoin according to your needs.