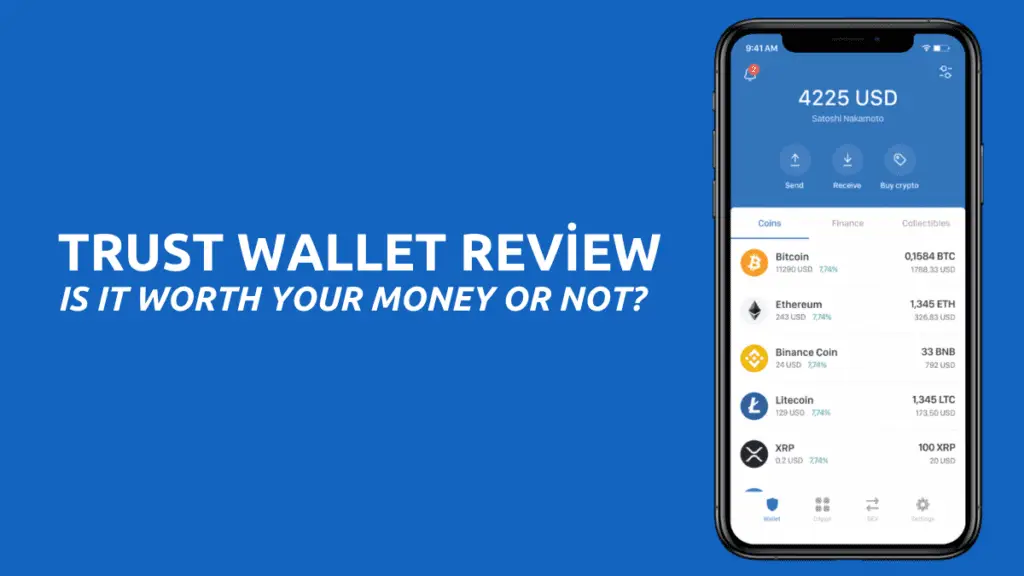 Are you looking for a wallet to keep your assets in but confused among dozens of wallets? If so, it isn't a big deal, and you have searched for the right wallet to know about — Trust Wallet. In this review, we'll discuss in detail whether you should go for this wallet or not.
Most people, especially business owners, are trading cryptocurrencies; they use different options to save their funds. Wallets are one of them whether you go for hardware or software wallets. Both these wallets have their perks and flaws, and the choice comes to you.
Our review focuses on putting all the points about Trust Wallet, a software type of wallet. In the end, you'll be able to decide on this wallet. If you need such an excellent wallet, this article is for you. So, please keep reading this Trust Wallet review, and let's get started with no further delay.
Trust Wallet: Overview
Trust Wallet is a cryptocurrency wallet that allows traders to store their assets and earn interest on them. This open-source and decentralized wallet is available for both Android and iOS users. Initially, it could only support ERC20 and ERC223 tokens but now supports 1M+ assets.
This wallet features a Web3 browser enabling users to trade in cryptocurrencies on a DEX exchange working on the Kyber Network. It provides access to several DApps developed on the Ethereum platform right away via Trust Wallet.
How Does Trust Wallet Work
If you are observant and a fine liner, you must know how Trust Wallet works. As you know, what is Trust Wallet — a mobile app; it's simple to learn its working mechanism. So, here is the way Trust Wallet works.
Trust Wallet, as we mentioned earlier that it stores, but it does not directly do that. It only gives access to the user and acts as a bridge to connect you to the blockchain networks. So, it's the blockchain that stores your assets and keeps them encrypted in a specific address.
According to their official website, "Trust Wallet does not store any cryptocurrencies in its servers; rather, it provides access only to its wallet."
In other words, Trust Wallet allows its users to manage their public addresses to send and receive cryptocurrencies. It helps traders to perform different transactions, irrespective of their choice of currency.
Features of Trust Wallet
Trust Wallet comes with many benefits, and you can rely on it for your crypto necessities. You might be thinking, "is Trust Wallet good" and the simple answer is Yes. This claim corresponds to the following features of Trust Wallet.
Simple User Interface And Easy To Use
The user interface is the most crucial factor necessary for attracting users, which Trust Wallet provides. Trust Wallet has a simple interface that allows users to use the app effectively and easily navigate features.
Due to the easy interface, Trust Wallet has attracted over 10 million users so far. It is also due to users' trust in this platform or application to store their crypto assets. So, it's a good wallet even for newbies to buy crypto and perform transactions.
Trust Wallet Is Free To Download And Use
Another best feature of Trust Wallet is that this application is free to download and use. Beginners who don't have any balance in their wallets can buy crypto and start trading. This is not about the transition fees or other things; we are just concerned with the application.
Fortunately, this app is available both on Play Store and App Store, and you can download it for free. You don't have to pay any initial or subscription fees to use its services. If you want to start your day today, just download and kick off your trading venture.
100% Secure Access
There are a lot of security breaches today, especially in the crypto space. So, secure access to your property or assets within a wallet is much more necessary. For this purpose, every wallet provider ensures to grant secure entry using a specific pin, code, or other methods.
Unluckily, at this time, we don't have any two-step authentication for Trust Wallet. The Trust Wallet also offers an access key with which only you can enter your wallet and manage your transactions. Everything is safe here which makes this wallet a reliable one.
Support For Multiple Cryptocurrencies
Nowadays, the crypto market has bulged with many cryptocurrencies. Getting multiple wallets for separate coins is a headache. Whether you want to buy and sell or store a single asset or multiple assets, consider Trust Wallet.
Trust Wallet supports multiple currencies, and hence, you won't need to have different wallets for different currencies. It allows you to buy, sell, and transact in various coins and other digital currencies and lets you keep track of your assets.
Earn Interest
Staking crypto is a standard program to lock up crypto holdings to earn interest. This program invests your coins to generate an income at different interest rates. It does so with crypto that works on the proof-of-stake (PoS) model.
Staking is potentially one of the best investments you can make. You can earn over 10% or 20% interest and up to 30%+ APY in BNB stacking using this method. All you need to do is stake (buy and store) a few coins to be part of the mining pool.
Credit Card Exchange
At the beginning of crypto trading, most of the platforms had limitations in balance methods. But over time, there come more options for buying coins to add to your account. This made trading easy, and now, you can even exchange with a card using Trust Wallet.
Trust Wallet allows you to use your credit card for buying crypto, as we do for online shopping. It lets you start trading right after adding your payment method as a card. Hence, users get an opportunity to use their cards for trading with Trust Wallet.
Decentralized Apps (DApps)
Trust Wallet has a DApps browser, which allows you to access dApps developed on Blockchains. You won't need to add a username and password as we do when creating an account. But wait, it doesn't mean that your wallet won't be safe through passwords — It's a different thing.
DApps browser (Web3) support helps you locate companies and vendors accepting crypto in exchange for services and products. DApps approved for Trust Wallet are available on the platform. This list of apps is increasing over time and is accessible through mobile.
Efficient Backup System
Last but not least, wallet backup is quite essential because it protects you from device failures and personal mistakes. Trust Wallet offers an efficient backup system through a 12-word reset code. This is the phrase used when one creates a wallet address.
If you lost a login to your account due to some reason, you could get access back using this 12-word code. So, it's necessary to note down this code during the account creation process, and you have to keep it safe.
Pros and Cons of Trust Wallet
Every crypto wallet has its unique advantages and drawbacks you must be aware of before using the wallet. For Trust Wallet, there are also both points, but the pros dominate over the cons, making it a trusted wallet.
Pros of Trust Wallet
Free and easy download on both Android and iOS.
Stores a large number of tradeable cryptocurrencies
It supports staking and lets you earn interest on stored assets
Private keys remain with the users, not saved in servers.
Cons of Trust Wallet
Not secure enough than hardware wallets.
No desktop support and documentation
What Wallet Type Is A Trust Wallet?
Trust Wallet is a mobile wallet used for storing cryptocurrencies. This is a software wallet you can install on your mobile. It makes trading easy for traders and helps them perform trades whenever they want. In addition, it does not keep any user information on its servers.
Trust Wallet Fees
Trust Wallet is free for its users to install and set up their Trust Wallet account and charges no fees. Users also don't have to pay for subscriptions to use this wallet. You only have to pay gas fees, which is only a network fee to process transactions.
How To Access The Trust Wallet?
After installing the Trust Wallet app on your mobile, you can create a new account or login into an existing one. Once you sign in, you have access to a few currencies by default, including Bitcoin, Ethereum, and Binance Coin. For secure access every time, you can set up a 6-word code.
How Do I Transfer Coins To A Trust Wallet?
Adding or transferring funds to your Trust Wallet is a hassle-free task. You can do this by following the steps mentioned below.
First, login into your account using the Trust Wallet app
Tap on "Receive" and enter or paste your copied wallet address.
You can also do this by scanning the given QR code.
You will receive coins by giving the sender this code or address.
Tap on "Transactions" to view your wallet transactions.
Finally, tap on "Confirm" when you receive the funds.
How Do I Make Payments With A Trust Wallet?
Making payments through Trust Wallet is simpler than receiving funds. So, to make direct payments, you can go through the following steps.
First, login into your account using the Trust Wallet app and tap on the "Send" icon
You'll see a field where you have to enter or paste the recipient's wallet address.
You can also scan the QR code of the recipient wallet to send funds to.
Enter your desired amount and tap on the "Next" icon.
Finally, tap on "Send," and there you go.
Trust Wallet Supported Cryptocurrencies
Being rich, Trust Wallet offers more than one million assets (estimated at 160K+ assets and blockchains). Most importantly, it supports the most popular cryptocurrencies such as Bitcoin, Ethereum, etc. However, for Ethereum users, we recommend MyEtherWallet.
Customer Support By Trust Wallet
Trust Wallet has an excellent team for customer support one can contact through a ticketing system. When a trader raises a ticket, the support team responds to it promptly. Also, there is an FAQ section where you can find answers to possible questions you may have.
Frequently Asked Questions (FAQs)
Is Trust Wallet Safe?
Yes, it is. Trust Wallet uses robust security measures except for the two-step authentication. But you can rely on this wallet, and your assets or holdings will remain safe in it. If you find any issue, their customer support is always available. So, Trust Wallet is entirely secure, and you can use it.
Is a Trust Wallet Safe For Bitcoin?
The simple answer is, Yes. Trust Wallet is not only safe for Bitcoins but also for several other currencies. There are more than enough positive reviews pointing to its transparency. So, you can use Trust Wallet for buying and selling Bitcoins, like the Cash App.
How Do I Put Money in My Trust Wallet?
If you want to add money to your Trust Wallet, perform the following steps.
Sign in to your wallet and click on "Receive."
Copy your wallet address and give it to the sender.
You can also share your QR code.
The sender will use your address or code to transfer funds.
Click "Confirm" when the sender sends you the money.
What Is a Trust Wallet Used For?
Trust Wallet works through a mobile app and is a software wallet. This wallet helps users send, receive, and store crypto assets. If you are into trading and want to keep your coins safe and secure, you go for Trust Wallet.
Conclusion: Trust Wallet Review
Well! That was all about the Trust Wallet so far. We hope that you have learned everything about this great wallet. This wallet is the most reliable and trusted wallet for every trader, as proven by many Trust Wallet reviews.
At last, we would say, what you could expect from a wallet that Trust Wallet offers? No matter which currency you are trading in, you can use this wallet. So, that's all from our side. If you want to try another wallet, have a look at the list of these anonymous wallets.